Notes for Game 05
By Andrew Wolan / WRCS
Game date: July 23, 2013
Score Box


| | | | | | | | | | | | |
| --- | --- | --- | --- | --- | --- | --- | --- | --- | --- | --- | --- |
| Milestones | X | X | X | X | X | X | X | | X | X | X |
| Verdasys | X | X | X | X | X | X | X | | X | X | X |

Links

Coach's Game Analysis: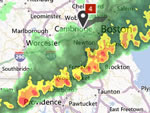 Recap:


Off and on down pours from passing rain bands soaked the area through-out the day, and was expected to continue into the night. This weather situation forced the league to officially call the game off at 4:15pm, with a make-up date to be determined later.

Rain continued as expected into the night as off and on showers.




Andy Wolan is a reporter and photographer for Verdasys Softball. This story was not subject to the approval of the league or its clubs.