Wellness Initiative Credit Information
Last Updated: 06/17/2013
Overview:


As part of the company's wellness initiative, the company would like to announce that participation on the company softball team will once again earn a "Wellness Initiative Credit". Employees who play on the company softball team for at least 5 games receive a credit. These credits can then be applied towards a day off from work.



Details: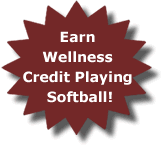 This "Wellness Initiative Credit' opportunity is open to all employees. To earn credit, an employee needs to participate in at least four games in the season. Participation is defined as someone who either bats or fields for some duration of the game. Dropping by the field and watching the game does not count as "participating" in the game. (But doing so is still welcomed, even to just jeer at Andy Wolan.)

Credit for game participation will begin with Game 1. At most, an employee will be able to earn one Wellness Initiative Credit per softball season.

Credit for game participation can be monitored via the "Statistics" portion of the website. Just check the stat for "G" or "Games Attended".

Once three Wellness Initiative Credits have been earn, their can be exchanged for a day off. If you have not yet signed up for Verdasys Softball but would like to participate, please contact Andy Wolan. For a listing of other "Wellness Initiative" programs, please contact HR.



Credit Recipients: (Updated Aug. 28, 2013)


The following employees have earned a Wellness Initiative Credit through participation on the 2013 softball team:


| | |
| --- | --- |
| - | A-WOL |
| - | Jon Anderson |
| - | Michael Foresto |
| - | Rob Priore |
| - | Russell Rick |
| - | Tom Cottam |
| - | Yulianna Huo |

Congratulations to all of our recipients!