Notes for Game 08
By Andrew Wolan / WRCS
Game date: Aug 12, 2013
Score Box


| | | | | | | | | | | | |
| --- | --- | --- | --- | --- | --- | --- | --- | --- | --- | --- | --- |
| B & V Testing | 1 | 0 | 2 | 3 | 3 | 1 | 3 | | 13 | X | 5 |
| Verdasys | 9 | 0 | 3 | 1 | 0 | 2 | X | | 15 | 20 | 3 |

Links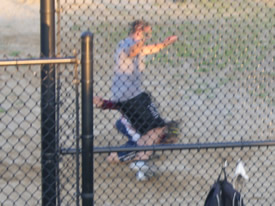 Spears made 3 plays at the plate to help preserve Verdasys' lead. (Wolan)

Coachís Game Analysis:





Weather and Field Conditions:


Sunny and humid. High 83F. A passing cloud gave our defense a break in the 5th inning. Went away after we made the 3rd out. Grass was mowed the day of the game. Infield was soft, but firm. Those with cleats had an advantage. Worked around home plate day before. Was unable to work rest of field because maintenance building was locked.



Offense:


Team took advantage of B&V porous coverage in shallow CF by landing several hits in that area, particularly in the first inning. However, some team members seemed a bit intimidated by B&Vís power hitters, and tried crushing the ball out of the park in later innings. This should be discouraged for it can lead to more fly outs and pop-ups. Instead, go with what has been working for you all season.



Defense:


Defense played great. Enough said.



Opponent:



| | |
| --- | --- |
| - | The women on B&V are FAST. So fast that a potential double was thwarted. |
| - | B&V is known for having guys that can hit OTF HRs. However, they are not always successful and tend to hit fly balls and pop-ups on bad swings. |
| - | B&V was observed again using the infamous Miken bats outlawed by many leagues. |
Game Highlights:
Memorable Events:
-
Raschi managed to attend todayís game despite have car trouble. Now thatís dedication! (Pre-game)
-
Heather came to the game despite breaking her ankle in a game the week before. Now thatís dedication!
-
A-WOL spotted a brown cotton tail rabbit near the RF foul pole. It poked around that area a few times during the game despite the risk of being hit or run over by a softball player. Now thatís dedication!
-
With Kevin, Lucy and A-WOL on 3B, 2B and 1B, respectively, Tom hits a base hit into CF. Lucy is waved in to score, with A-WOL right behind her. The ball is thrown to a fielder in front of the plate, but the fielder mishandles the throw. The ball hits the ground, bounces off Lucyís leg and is deflected towards the backstop. Lucy and A-WOL score. Tom takes 3B on the play. (1st)
-
After hitting a ball that gets past the outfielders, the B&V batter-runner circles the bases and rounds 3B with thoughts of scoring. However, the runner stops part way to home after Kevin fields a ball thrown to him by Jon. Oddly enough, the runner suddenly continues his advancement to home plate. With Kevin in pursuit and Spears covering home, Kevin throws the ball to Spears, putting the batter-runner in a pickle. Spears chases after the runner and tags him for the out, thus denying the batter-runner an ITP HR. (3rd)
-
In the 4th inning, a B&V batter hits a ball down the left field line. Jon makes a sliding attempt at the ball, but is unable to make the play. Because the foul lines were not marked, it was difficult to tell in real time out on the field whether the ball was fair or foul. It was also unclear as to whether or not the ball hit Jonís glove. (Jon later said it did not.) B&V ruled the ball fair, and ended-up collecting 2 runs on the play.

Photographic evidence appears to show that the ball was foul, but alone is not definitive. Had the play been reviewed on the spot, the ballís exact position on the field could have been determined by using the photo and the on-field shadows as a guide. From there a proper determination could have been made. (4th)
-
With a runner on 1B, a B&V batter hits the ball pass Claffey into CF. The runner tries for a triple, pushing the leader runner to home plate. Claffey throws the ball to Raschi, who then tosses it to Spear covering home. Spears applies the tag to get the runner out. The tag was applied a few paces ahead of home plate. (4th)
-
While chasing a Cottam hit into deep LCF, a B&V outfielder leaps up in the air and over the fence to try and catch the ball. The fielder lands on some saplings growing at the fence line, which in turn hold him up and prevent him from falling over the fence. Though the fielder appeared to have had a glove on the ball, he did not have it, netting Tom an OTF HR. As for the fielder, he had some scrape and rosebush thorns stuck in him, but was otherwise ok. (4th)
-
With at least one base runner on, a B&V batter hits a grounder thru the infield. Jon fields it and fires it to Raschi. The base runner continues advancing and is charging hard towards home plate. Jay fires the ball to Spears, who is covering home. As soon as he catches the ball he applies the tag, tagging the runner out at the plate. (6th)
-
With so many balls being lost to OTF HRs, Tim Nolte went into the woods behind the outfield and was able to retrieve 2 of the balls. (5th?)
Offense:
| | |
| --- | --- |
| Cottam: | 2 for 2 (3B, solo OTF HR) with one run and 4 RBIs. |
| Spears: | 3 for 3 (2-run ITP HR) with 3 runs and 3 RBIs. |
| Claffey: | 3 for 3 (3-3B) with 2 runs and 3 RBIs. |
| Kevin: | 3 for 3 (3B) with 3 runs and 1 RBI. |
Defense:
| | |
| --- | --- |
| Lucy: | Line-drive snag in shallow CF. ďIt nearly took my arm off!Ē (1st) |
| Jon: | Sliding catch of a flair into LF. (1st) |
| Jon: | Diving catch in shallow LF. (2nd) |
| B&V: | 6-4-3 double play on a Lucy grounder. (3rd) |
| Spears: | Tag-out of a batter-runner caught in a pickle between 3B (Kevin) and home (Spears). (3rd) |
| Verdasys: | 8-6-3 (Claffey-Raschi-Spears) outfield assist to tag-out a player trying to score. (4th) |
| B&V: | 1-2-3 inning. (5th) |
| Jon: | Catch on the warning track in LF to possibly deny a batter of an OTF HR. (6th) |
| Verdasys: | 7-6-3 (Jon-Raschi-Spears) outfield assist to tag-out a player at the plate. (6th) |
Milestones:
| | |
| --- | --- |
| - | Claffey is the first player in team history to hit 3 triples in a single game. |
| - | Team made three plays at the plate. Single game franchise record. |
| - | Team has hit an OTF HR in each of the past 5 games. |



Injuries:


A-WOL has a bruised right shin after walking into the bench during the 6th inning. After taking pictures with Heatherís camera, he went looking for his camera so he could record an interview with Kevin regarding his recent 3B. With Lucy on-deck, he also went looking for his batting equipment. With all of that going on at once, he did not notice the bench in front of him and walked right into it, bruising his right shin.

To prevent himself from falling over with Heatherís camera, he used the impact site to provide balance until he got himself upright. But this also bruised his shin further. He is expected to make the next game.




A-WOL Watch:



Practiced the day before for 2 hours. Sore, but had plenty of energy. Did not take any performance-enhancing vitamins.



Offense:


1 for 2 with one run scored.
| | |
| --- | --- |
| - | Hit into shallow CF. Scored on Tomís 3B while tailing Lucy P to the plate. |
| - | Grounder to short. Thrown-out by a step. |



Defense:


Split time in RF with Bill. Played in 1st, 3rd, and 5th. (Sat out 7th due to injury.) No touches.



Andy Wolan is a reporter and photographer for Verdasys Softball. This story was not subject to the approval of the league or its clubs.