Notes for Game 01
By Andrew Wolan / WRCS ; Foresto Watch by Michael Foresto / WRCS
Game date: June 25, 2013
Score Box


| | | | | | | | | | | | |
| --- | --- | --- | --- | --- | --- | --- | --- | --- | --- | --- | --- |
| Game Show Network | 4 | 3 | 0 | 0 | 1 | 6 | 0 | | 14 | X | 0 |
| Verdasys | 0 | 2 | 0 | 1 | 4 | 2 | 6 | | 15 | 19 | 3 |

Links




Coach's Game Analysis:





Weather and Field Conditions:


HHH, temps in the 90's. But by game time, a cool breeze began blowing into CF, and increasing cloud-cover hid the sun. Overall, it was actually a great afternoon for a game. However, the gnats were a bit difficult to contend with on the field. Field conditions were fine overall.




Game Highlights: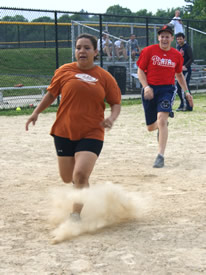 Wiley watches Vickie score on his way to an ITP Grand Slam. (Lesson)
Memorable Events:
| | |
| --- | --- |
| - | After hitting a hard grounder up the middle to A-WOL, a GSN batter ran to 1B and slid into the bag with a Kung-Fu flying-kick like slide into 1B. I'm not sure what kind of martial art maneuver it was, but it sure looked cool! In addition, the speedy runner easily outran any attempt of a play at 1B. (6th) |
| - | Team overcame a 14-9 deficit going into the final frame to collect the win. Wiley Spears hit an ITP Grand Slam to make it 14-13 GSN. He was later followed by a walk-off 2-run ITP HR by A-WOL to win the game. Team celebrated the win by mobbing A-WOL at home plate and picking him up off the ground. |
Offense:
| | |
| --- | --- |
| David C.: | 2 for 2 (3-run ITP HR) with 2 runs and 3 RBIs. |
| McCauley: | 2 for 2 (2-3B) with 2 runs and an RBI. |
| Wiley: | 1 for 3 (K, ITP Grand Slam) with 1 run and 4 RBIs. |
| Vickie C.: | 1 for 2 (SAC,) with a run and an RBI. |
| A-WOL: | 1 for 3 (2-run ITP HR) with 1 run and 2 RBIs. Had a walk-off 2-run ITP HR. |
Defense:
| | |
| --- | --- |
| GSN: | 1-2-3 inning in the 3rd. |
| Verdasys: | 1-2-3 inning in the 4th. |
| Bowler: | Running grab of an infield flare near 1B to end the 6th. |
| A-WOL: | Diving grab of a flare into LF. (7th) |
| Verdasys: | Team gave-up no ITP HRs. Had three shut-out innings, including two 1-2-3 innings. |
Milestones:
| | |
| --- | --- |
| - | The victory is the first non-forfeit win for the team in 33 tries, or in nearly 3.5 seasons. The last conventional win for the team came against former hallway rival RacePoint Group (RPG) in 2009-Game 4. |
| - | Team hit 3 HRs in the game, which ties the club record set against GSN in 2012-Game 1. |
| - | Wiley Spears hit the first grand slam in Verdasys club history. (Melissa Nolte, Foresto and Vickie C. scored on the play.) |
| - | A-WOL has hit an ITP HR in 3 of the past 6 season opening games. Game-winning hit was the first of his career. (2003 - present) |
| - | McCauley hit 2 triples in the game, which ties the club's single game record. (Was achieved by A-WOL in 2009-Game 6 against MMS, and by Ryan Grimard in 2011-Game 9 against UTD.) |
| - | A-WOL scored his 26th run with Verdasys, passing Ryan Grimard for career most number of runs scored by a Verdasys Softball player. |
| - | Foresto hit a single in his first-ever at bat. |
| - | Début game for: Claffey, Godwin, Jon Anderson, Wray, Lucy P, Foresto, Priore, Mulligan, Catalan, and Wiley Spears. |
| - | This article is the 60th game note/game summary written by the writing staff for Verdasys Softball. |



Injuries:


In the third inning with Heather playing as catcher, a batter hit a foul tip that went directly back towards the catcher. The ball struck Heather in the mouth, cutting a lip and dislodging a previously broken tooth. The ball also hit her in the forehead, giving her a concussion.

How the ball struck her is unclear since it happened so fast. Some say she was positioned too close to home plate, putting her in the line of fire. Others say she was a safe distance away. Some even argue that she was struck in the forehead by the bat and not the ball. Some say that she appeared to position her glove to catch the pitched ball before it hit the ground, putting her in a vulnerable position. Heather herself does not recall the incident well and cannot comment. Whatever the case, most people appear to agree that it was a freaky foul tip.




Foresto Watch:




| | |
| --- | --- |
| Offense: | 1st inning – first up, first at bat, in my lifetime – scored a single! |
| Defense: | 1st inning - first attempt to field a line drive playing shallow infield – off the tip of my glove, I could have done better. |
| Defense: | 6th inning – proud of my fielding a ground ball, hit sharply past second, cleanly and running the ball in to prevent extra bases. |
| Offense: | 7th inning – finished 2 for 3 with another single, past the shortstop, but hard, and scored one of the late runs. |




A-WOL Watch:





Offense:


In my first 2 at-bats, I did not have a lot of pop in my swing. This issue can be overcome by warming up with some practice hitting, or just warming-up with some activities in general.

1 for 3 (2-run ITP-HR) with a run and 2 RBIs.

| | |
| --- | --- |
| - | Nearly outran a 6-3 ground out. (Blue bat) |
| - | F6. (Black bat) |
| - | Kevin mentioned prior to 3rd at bat that the coverage in RF looked weak. Intentionally hit the ball into RF using "high left shoulder" swing. I think the ball landed in a gap that passed by everyone, leading to an ITP-HR. |

Russ wanted me to mention that when I crossed home plate to score, I intentionally dove head-first past home plate, while at the same time dragged my right toe across home plate. I ended-up at least several feet from the plate. This allowed me to move through and out of the area of interest as quickly as possible, thus reducing the chance of getting tangled-up with the catcher, or getting hit by a thrown ball to the plate.



Defense:


Played FIF, LF and FOF. Several touches, 2 outs made.

| | |
| --- | --- |
| - | As FIF (1st), nearly caught a short infield pop-up. Later converted a grounder into force-out at 3B. |
| - | As LF (2nd), backed-up a ball that got pass Cooles in CF. (Could have grabbed it instead of playing safe.) |
| - | As FIF (5th), had trouble handling hard grounders up-the-middle. Need practice to gain comfort against such hits. |
| - | Did field a grounder hit up-the-middle and behind 2B. Runner then made a kung-fu like slide into 1B, beating my throw. Pulled a gluteal muscle in left leg on the throw. |
| - | As LF (7th) caught flare into shallow LF. Botched a potential double play by over-throwing the cut-off man. |
Andy Wolan is a reporter and photographer for Verdasys Softball. This story was not subject to the approval of the league or its clubs.