Notes for Game 05p
By Andrew Wolan / WRCS
Game date: Aug 1, 2013
Score Box


| | | | | | | | | | | | |
| --- | --- | --- | --- | --- | --- | --- | --- | --- | --- | --- | --- |
| Verdasys | 7 | 8 | 1 | 5 | 0 | 2 | 2 | | 25 | 34 | 8 |
| Milestones | 2 | 0 | 0 | 4 | 1 | 1 | 0 | | 8 | X | 1 |

Links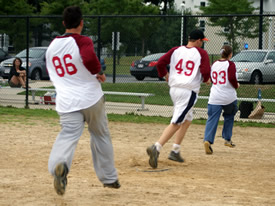 Melissa, Spears and Claffey score of Claffey's ITP HR. (Lesson)

Coachís Game Analysis:





Weather and Field Conditions:


Overcast, high 80F. Winds blowing into CF. A passing shower moved into the area about 15-20 minutes before game time. The rain was light but steady, and ended part-way into the first inning. If anything, it soaked the infield just enough to prevent dust from kicking-up. It also made the outfield grass wet, but it was not slippery.



Opponent:


Mís defense appeared to have trouble fielding balls that got into the outfield. My guess is that the ball kept finding areas that the Mís were not able to cover. It could be that our base running was so aggressive that there was little the Mís could do. Or, it could be that the Mís had trouble running on the wet grass. Overall, if you gave the team a routine out, they made it 90% of the time, so donít underestimate them.

Despite having two lefties, the Mís did not hit many balls into RF. There were a several hits into shallow CF and a few into RF, but nothing into deep RF. In my judgment, I think it had to do more with where the ball was being pitched, so donít count on RF being ignored in future contests.



Offense:


Teamís offense was on fire. Base running was very aggressive and easily contributed extra runs. No blunders were logged.



Defense:


Teamís defense is starting to come together. Players are calling each other off with loud, vocal calls. Players look more confident of themselves making plays on the field. Got a strong defensive performance by Anderson, Claffey, and Kelly in the outfield. McCauley, Raschi and Spears continue to be dynamite at 3B, SS and 1B respectively.

Team needs to settle coverage around 2B, specifically the fielding assignments of FIF, 2B and (when applicable) a FIF playing shallow CF. It seems like we are crowding our coverage of that area, which can lead to trouble such as extra outs or even worse, injury.

Suggestion: for power hitters position FIF behind 2B. Have 2B or SS cover 2B on force-outs, depending on where the ball is hit. For short hitters, position FOF behind 2B, and move FIF behind pitcher. Have FOF cover 2B on force-outs.




Game Highlights:





Memorable Events:



-
Second game the team played in a week. A first in club history. Team also won both teams.
-
Fourth consecutive scheduled match-up against the Mís in which the two teams had to contend with rain to some degree. (2011-G7, 2012-G5, 2013-G5 (PPD) and 2013-G5p)
-
Dave Claffey hit a ground rule double in the 2nd. He is the first player in club history to make such a hit.
-
Fearing a ball shortage in the 4th, Tim Nolte went looking in the woods behind CF for Claffey's ball, along with the OTF HR that Raschi hit. He was there for about an inning. Ended-up recovering 4 lost balls.
-
Bill made a catch into deep LF to end the game.
-
Mís uncovered and exploited the weakness of team co-captain Russ Rick: doggies! The team had two cute dogs at their bench, which distracted Russ from the game. Unable to resist the temptation, Russ was seen neglecting his coaching duties so he could play with the dogs. This happened on two occasions late in the game.

Russ later issued a statement, saying ďI was not distracted from the game, at all, I was looking at new talent for our team. Possible new mascot for our team. There is a method to all this madness!Ē
Offense:
| | |
| --- | --- |
| Jay: | 4 for 4 (2B, 3-run OTF HR, solo ITP HR, 2-run ITP HR) with 4 runs and 8 RBIs. |
| Dave C.: | 4 for 4 (2-2B, 3-run ITP HR, 2-run ITP HR) with 4 runs and 6 RBIs. |
| Kevin: | 4 for 4 (2-2B, solo ITP HR) with 2 runs and 1 RBI. |
| Jon: | 3 for 4 (2B, 2 run ITP HR) with 4 runs and 4 RBIs. |
| Gowtham: | 2 for 4 (solo ITP HR) with 2 runs and an RBI. |
| Stephanie: | 3 for 4 with 3 runs. |
| Bill: | 4 for 4 (2B) with 3 RBIs. |
| Priore: | 3 for 3. |
Defense:
| | |
| --- | --- |
| Mís: | F10-3 double play. (3rd) |
| Kevin: | running catch of a foul ball near 3B. |
| Mís 3B: | sliding catch in foul territory of a Wiley pop-up. (4th) |
| Mís 3B: | diving catch on the line the 3B line of a short Heather infield flair to end the inning. |
| Kevin: | running catch of a ball hit into shallow IF near 3B. Lost hat in the process. |
| Bill: | running catch in LF. (6th) |
| Jon: | multiple catches in LF. |
| Jay: | the usual at SS. |
| Verdasys: | team gave up a total of 8 runs. Limited the Mís to 0 or 1 runs per inning over 5 innings of play. |
Milestones:
| | |
| --- | --- |
| - | Offense collected 25 runs, which ties a single-game club record. (Last reach 25 runs against MMS in 2008-G6.) |
| - | Team collected 34 hits, which is a new single-game club record. |
| - | Team hit 8 HRs in the game, which is more HRs hit in a single game than the team hit in an entire season for each of the 2008-2011 seasons. |
| - | Jay Raschi hit 3 HRs in the game, which is a new club record. (Old record is 2, set by Jay in 2013-G4.) |
| - | Dave Claffey hit two HRs in the game, becoming the second player in team history to do so. (Other player is Jay Raschi.) |
| - | Jay Raschi collected 8 RBIs in the game, which is a new club record. (Old record is 7, set by Jay in 2013-G4.) |
| - | Gave-up a total of 8 runs, which to date is the 2nd least in club history. (Record is 7, which was set against Milestones in 2012-G5.) |
| - | Team played and won 2 games during the same week. A team first. |



Injuries:


None. (I hurt my wrist typing this out, does that count?)




A-WOL Watch:



Took ďVitamin BĒ 1 hour before game time. Had lots of energy, but was thirsty. Russ suggests that I drink more water with the B vitamins to help break them down better.



Offense:


1 for 4. Experimented with other bats in the game. (Of all games, this was a safe game to do so.)

| | |
| --- | --- |
| - | Line-out to SS. (Green bat.) Tried to make contact on a 3rd pitch. Made good contact, but the pitch was one best struck with a heavier bat. |
| - | Single into shallow CF. (I think) |
| - | F8 (deep). Used Jayís bat. |
| - | F9. Was baited into hitting into RF and changed plan of attack at the last moment, and ended up popping it up to RF. Should have just stuck with my initial plan and hit it normally. |



Defense:


Shared RF with Gowtham. Played 3 innings. (3rd, 5th, 7th.) One touch.

| | |
| --- | --- |
| - | Fielded a short hit into RF. Quickly threw ball back to 2B. (Overthrew it a bit, as Jay had to leap in the air at 2B to field it.) Held base runners to one base. |
Andy Wolan is a reporter and photographer for Verdasys Softball. This story was not subject to the approval of the league or its clubs.