Notes for Game 06
By Andrew Wolan / WRCS
Game date: July 29, 2013
Score Box


| | | | | | | | | | | | |
| --- | --- | --- | --- | --- | --- | --- | --- | --- | --- | --- | --- |
| Verdasys | 5 | 1 | 3 | 0 | 0 | 3 | X | | 12 | 21 | 1 |
| Tufts Health Plan Corp. | 2 | 5 | 0 | 0 | 0 | 2 | X | | 9 | X | 0 |

Links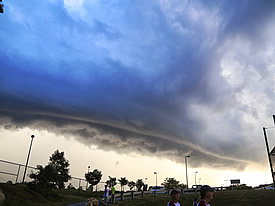 An ominous looking storm cloud that later formed what appeared to be a funnel cloud. (Gowda)

Coach's Game Analysis:





Weather and Field Conditions:


Sunny at start of game, then became cloudy. Game ended with a thunderstorm, which produced lightning, hail, heavy rain, and a possible funnel cloud. High 84F. No noticeable wind until at the end of game.

Field had wet spots around the entrance points into the dugouts. Russ raked those spots. I worked on the ditch near home plate a bit the day before, which packed in nicely from overnight rain. Russ leveled it off before the game.



Offense:


Batting line-up was top heavy. Ten of the 11 runs came from those batters. It may very well have been a good idea, because Tufts has good defense, limiting scoring opportunities.



Defense:


Other than a rough 2nd inning, the team's defense put on a great performance to help hold the lead.




Game Highlights:





Memorable Events:



| | |
| --- | --- |
| - | Top of 2, with 1 down and the bases loaded, Gowtham hits an infield fly. Spears, who was on third, tags and proceeds to home plate. The play at home is no good because the catcher did not have control of the ball, allowing Spears to score. |
| - | A Tufts baserunner was "phantom tagged" by Jay after the runner ran out of the base lines. |
| - | After reaching 2B on a double, the ball is returned to and caught by the SS. A-WOL then falls over to the ground for no reason. (Must of been a strong thrown.) |
| - | Début game for: Genovese. |
Offense:
| | |
| --- | --- |
| Baschi: | 3 for 3 (2B, 3B, 3-run OTF HR in CF) with 2 runs and 5 RBIs. |
| A-WOL: | 3 for 3 (2-2B) with 3 runs scored. |
| Jon: | 2 for 3 (FC, 3B) with 3 runs and 2 RBIs. |
| Stephanie: | 1 for 1 (2 SACs). |
| Dr. Wiley: | 2 for 2 with one run scored and a base taken. |
| Tim C.: | 2 for 2 with one run scored and a base taken. |
Defense:
| | |
| --- | --- |
| Tufts: | Line-drive snag of a Claffey hit to 2B. Player was knocked over by the power of the hit, but still retained the ball. (3rd) |
| Verdasys: | 1-2-3 inning. (Jay 6-3; Heather 4-3; Dave C. F7) (4th) |
| Tufts: | Line-drive snag at short to deny Bill of a hit. |
| Gowtham: | Running catch in RF. (5th) |
| Verdasys: | Gowtham to Jay outfield assist (9-6) to force out a runner at 2B. |
Milestones:
| | |
| --- | --- |
| - | First time that Verdasys has ever defeated Tufts. |



Injuries (Tufts):


A Tufts batter-runner was struck in the back of the head by a thrown ball while trying to outrun a force-out to 1B. The ball was hit to Cooles at 3B, who either bobbled the ball after fielding it or pump-faked it to 2B to hold the runner. He then fired the ball to Spears at 1B, but it was thrown wide to his left. Since Spears was unable to get a glove on the ball, it struck the Tufts batter-runner in flight in the back of the head. The player was not wearing a helmet.

The player received help from the Verdasys EMT-trained personnel and was conscious throughout the ordeal. The player was able to walk off the field under the player's own power. After the game, Tufts reported that the player being "ok" and thanked the Verdasys team for their help. There is no further word on the player's condition. The Verdasys team would like to extend their best wishes and a speedy recovery to the injured player.



Injuries (Verdasys):



| | |
| --- | --- |
| - | Dave Godwin pulled a hamstring running the bases in the 1st. He is expected to a miss a few games as he recovers. |
| - | Tim Nolte was nearly strut by a Raschi grounder on two occasions while pitching. Tim's response: "you'll have to try harder next time." |




A-WOL Watch:



Took performance-enhancing B vitamins before the game. Game jersey was not dirty after the game.



Offense:


3 for 3 (2-2B) with 3 runs scored. Was lead-off hitter. Spent the prior two afternoons working on my hitting and trying to drive ball into CF, which is Tufts' only real weak spot. Gravitated towards short green bat, so I used it for the game.

| | |
| --- | --- |
| - | 2B into shallow CF. Advanced on Steph's infield hit. Scored on a Jon FC. |
| - | 1B either up the middle, into shallow CF, or deep CF. Either way, did not have time for a 2B. Advanced on Steph's SAC and Jon's 1B. Scored on Jay's OTF HR. (First time I have ever scored on an OTF HR.) |
| - | 2B into shallow CF. Advanced on Steph's SAC. Scored on Jon's 3B. Begin wearing batting helmet with this at-bat. |



Defense:


Played CF to two innings. One touch.

| | |
| --- | --- |
| - | Fielded ball hit into CF and returned ball so quickly that runner who advanced to 2B from 1B did not try for 3B. Then again, I might have confused the runner when I said "second base" to the fielders. (Player was later "phantom tagged" out.) |




Memorable Weather:



Special Feature



3:30


A storm developed to the south-west and approached the area.



4:30


The approaching storm splits in half and avoids the area. It does produce a passing sun shower.



5:45pm


Before the game, a rainbow was observed. It disappeared by game time. (Photo)



6:20pm


As the game progressed, a strong thunderstorm cell from the southwest began approaching the area. According to radar, a second storm cell was forming to the north of the main cell.



6:30pm


Clouds started rolling in, creating formations that was awe-inspiring, beautiful and eerie. At one point, a large white circular cloud could be seen when viewed towards the south west, with dark clouds surrounding it. (No photos)



7:05pm


Around the start of the 6th inning, thunder could be heard. The northern edge of the main cell began to intensify, drawing energy and clouds from the rest of the storm. This created a wind along the front of the main cell towards the localized storm. The result was a long linear cloud that terminated at the developing storm center. (Photo)

The northeast winds from the main cell clashed with the new northwesterly wind to localized storm, resulting in atmospheric disturbances. Because of these disturbances, rotating clouds could be seen below the main cell.



7:15pm


Game was called due to weather. The localized storm continued to gain energy, and formed what appeared to be a wall-cloud. Lighting was observed. (Photo)



7:20pm


Rain began to fall and was later accompanied by pea-sized hail. Occasional lightning was observed. Strong winds towards the localized storm could be felt at ground level.

Melissa and Heather reported that a tornado watch had been issued for the area. (Could not independently confirm.)



7:30pm


Storm system had passed through. Clear skies begin rolling in from behind the storm.



7:32pm


The 2nd rainbow of the day was observed. (Photo)



7:35


According to radar, the storm cell that formed to the north of the main cell had become strong enough to suck up the energy from the main cell.



7:55pm


New storm cell has absorbed most of the main cell's energy.



Andy Wolan is a reporter and photographer for Verdasys Softball. This story was not subject to the approval of the league or its clubs.