Notes for Game 07
By Andrew Wolan / WRCS
Game date: Aug 7, 2013
Score Box


| | | | | | | | | | | | |
| --- | --- | --- | --- | --- | --- | --- | --- | --- | --- | --- | --- |
| Up To Date | 0 | 0 | 0 | 0 | 1 | 0 | 0 | | 1 | X | 0 |
| Verdasys | 2 | 1 | 1 | 8 | 5 | 0 | X | | 17 | 24 | 3 |

Links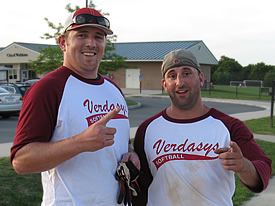 The Basham Bro. were 5 for 5 with 5 runs and 5 RBIs. (Wolan)

Coachís Game Analysis:





Weather and Field Conditions:


Sunny with passing clouds. Slight breeze blowing towards CF. High 80F. Infield was dusty, and the foul-lines were marked up over the weekend.



Opponent:


In past games, UTD was known for spreading the ball around the field, including down the foul lines. They even carry a few lefties in their line-up. In the present game, their team struggled to make such base hits, thanks to the Verdasys defense. In the game, only one ball was hit down the LF line. A second batter appeared to have targeted the RF line, but kept knocking it foul and out of play.

UTDís outfielder appears to have trouble communicating and missed some routine outs.



Offense:


Offense struggled a bit in the early going, but found their stride mid-way through the game. UTDís defense was sharp in the early going.



Defense:


Team was made aware of UTDís ability to spread the ball around the outfield before the game. Went with a 4-fielder formation. Coverage in LF and CF by Cottam, Jon, Claffey and Bill was solid, and mitigated UTDís ability to spread the ball. Foresto, Gowtham and A-WOL completed the coverage in RF. Balls that landed in the outfield were returned quickly to limit batters primarily to singles.

Infield continued to do their thing, making routine outs and denying speedier runners of infield hits. Stephanie appears to be settling into the FIF position.




Game Highlights:





Memorable Events:



| | |
| --- | --- |
| - | Tom Cottam hit an over-the-fence HR, and becomes the second player in club history to do so. (3rd) |
| - | A-WOL took-over the team after the 3rd inning while Russ helped take Heather to the hospital. |
| - | The Verdasys offense mistakenly ended the 5th inning after making the second out. (Bad scorekeeping.) |
| - | The women on the team closed the game by recording the final three outs on defense. (Steph 1-3; Steph 1-3; Lucy to Jay 4-6) |
| - | After the game, Gowtham showed Yo, Bill and A-WOL how to play cricket. |
Offense:
| | |
| --- | --- |
| Raschi: | 3 for 3 (2B, 2-run ITP HR) with 3 runs and 4 RBIs. |
| Cottam: | 2 for 2 (3B, solo OTF HR into CF) with 2 run and 2 RBIs. |
| McCauley: | 3 for 3 (2B) with 1 run and 3 RBIs. |
| Claffey: | 3 for 3 (2B, 2-3B) with 2 runs and an RBI. |
| Lucy: | 2 for 2 (2B). |
Defense:
| | |
| --- | --- |
| Dr. Wiley: | Fielded a ball to 1B, bobbled it, but recovered to tag 1B ahead of a speedy batter-runner for the out. (1st) |
| UTD: | 8-6 outfield assist to 2B to force-out Melissa at 2B on an A-WOL blooper into CF. (4th) |
| Cottam: | 8-6 outfield assist to Jay at 2B to force-out a speedy runner. (5th) |
| Jay: | Tagged-out a runner at 3B. (5th) |
| Verdasys: | Gave up just 1 run, and had 6 scoreless innings. Started the game with 4 consecutive scoreless innings, which is a club record. |
Milestones:
| | |
| --- | --- |
| - | Teamís defense allowed a franchise low of 1 run in the game. (Old record was 7, which was set against Milestones in 2012-G5.) The last time a team was limited to a single run was 2011-G5 when Thermo Fisher limited Verdasys to a run. |
| - | Tom Cottam hit a solo over-the-fence HR into CLF in the 3rd. It is his first OTF HR with the team. He also becomes the second player in club history to hit an OTF fence. (Jay Raschi being the other player.) |
| - | Team has hit an OTF HR in each of the past 4 games. |
| - | Team mathematically secures a spot in the playoffs. Will be the teamís first-ever appearance in the championship bracket. |
Injuries:
During the pre-game batting practice, a few players took the opportunity to get in some fielding practice. Heather was one of them, playing SS. When Jon, (a lefty,) came to bat, Heather moved over the vacant 2B position. While chasing an infield pop-fly near 2B, Heather stepped on a stray softball, injuring her ankle. She reports hearing a breaking sound and was unable to move. She then had to be carried off the field by Spears and Cottam to receive medical attention by Russ in the dugout.

Heatherís ankle began to swell and was in pain. It was decided that Heather needed to go to the ER for an evaluation. She was brought in by Russ and Patsy, where the doctor reported that she had chipped a bone in her ankle and had torn at least one ligament. A follow-up MRI will be required to determine if further damage was done.

For the time being, she will need to wear a boot as she recovers and awaits a follow-up exam. Needless to say, she will be out for the remainder of the season. The Verdasys Softball team sends their best well wishes and hope for a speedy recovery.




A-WOL Watch:



Caught some kind of mild cold, possibly from the coffee maker. Wasnít at 100%, even with supplements.



Offense:


0 for 2 with a run and an RBI. Snapped season-long hit streak. (Last game without a hit: 2011-G5.)

| | |
| --- | --- |
| - | Pop-up to CF. |
| - | Pop-up to CF for FC. Melissa, who was on 1B, had to proceed carefully on the play. Ball drops between 3 defenders, who then narrowly force-out Melissa at 2B. I later scored on a Cottam 3B. Kevin said I did not touch 3B bag rounding third. Need to be mindful of that in future games. |



Defense:


Played RF for two innings, but had to sit out remainder of game and manage the team after Russ had to leave and help take Heather to hospital. No touches.

Was nearly injured during practice. While playing short LF, I went to retrieve a grounder that slipped through the infield. Though I was in position to field the ball at the knees, the ball took a bad hop and went for my head. I was able to stop the ball with the palm of my ungloved hand. It stung but I was otherwise ok.



Andy Wolan is a reporter and photographer for Verdasys Softball. This story was not subject to the approval of the league or its clubs.